Hat.sh is a simple web application written in JavaScript that offers secure file encryption from a tab in your browser. The utility is completely serverless, that is, nothing is uploaded to any server and everything is done locally from your computer.
Basically, it offers you an extremely simple and fast solution to encrypt any type of file regardless of size, and from most popular modern browsers both on the desktop and on your mobile.
"The Hat project" uses the AES-256-GCM algorithm through the WebCryptoAPI of your browser to encrypt the files, and was created using the WebCrypto documentation.
Its source code is available on GitHub under an MIT license, and if you want to use it offline, the application is cross-platform and is available for download in macOS and Windows, only you have to download and clone the repository yourself.
How it is used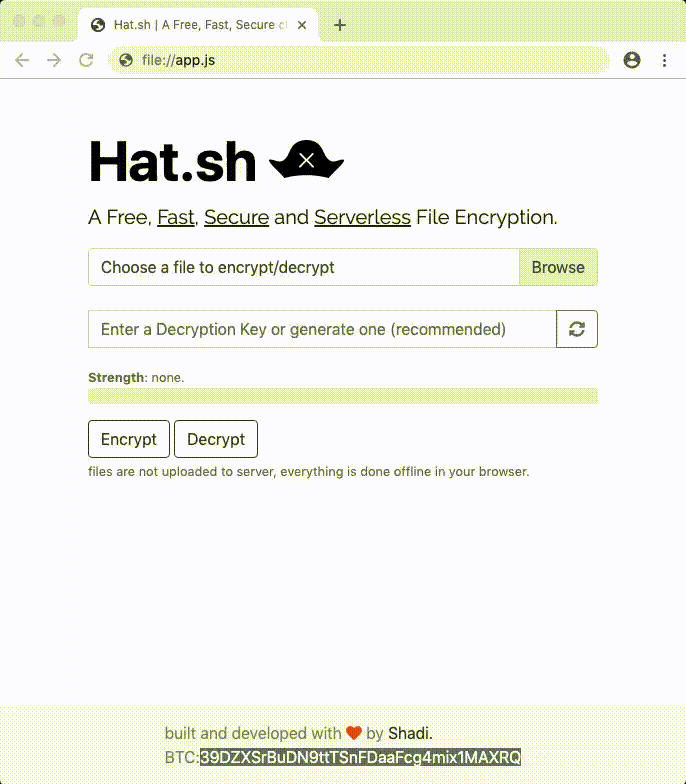 This is the simplest part, all you have to do is enter Hat.sh, choose a file from your computer by pressing the "Browse" button, and enter an encryption key in the lower drawer.
You can write your own encryption key, or you can generate one automatically with the same application . The strength estimate of your encryption key is made using zxcvbn . Anyway, you must have the key to be able to decrypt the file.
You will notice that the process is extremely fast no matter the size of your file, and that on the one hand you have not had to upload anything to any server, and on the other, Hat.sh only executes a small portion of code.
To decrypt a file you just have to follow the same process, the only difference is that this time you will have to press the "Decrypt" button instead of "Encrypt".
Hat.sh is compatible with Chrome on Windows, macOS, Linux, iOS and Android; Firefox on Windows, macOS, and Linux; Safari on iOS and macOS; Internet Explorer and Edge in Windows.